Welcome to AdultActionCash

AdultActionCash is the affiliate program for AdultActionCam.com, the premier adult video dating and community site. AdultActionCam is the best converting adult-personals site on the web. Not only do we offer the same features as other adult centric sites, we go a step further with live video and webcam chat. As an added bonus for webmasters, we pay more for joins and we even pay out on free guest registations with no check or credit card needed.
Send your quality adult traffic to either Judy Star XXX or our premier gay product, GCruise.com. Watch your conversions head through the roof!
Our adult-personals sites feature the award winning DirectChat® video application. It is the best in the industry and your surfers will notice the outstanding quality.
Our free guest joins are REALLY free- that means you are paid for each guest that completes a simple profile without any credit card or check payment!
Through our years of industry experience, we know what it take to be successful. We offer an easy-to-use statistics program, great promotional tools, and customer service reps who are always available to assist you, 24/7.

Program News
November 8, 2004
$100 per signup on Friday, November 12!
Adult Action Cash is paying $100 per signup on Friday, November 12! This includes signups to both adultactioncam.com and gcruise.com.
You do not need to change or adjust your linking codes - we will automatically adjust based on your paid signups.
Also, please take note of our new free content, including individual profiles, a faster-updating superlist, and re-done search banners.

October 1, 2004
Welcome to the new, improved Adult Action Cash!
First and foremost: all of your existing linking codes still work. You can choose to continue with the old program, but most of you will like our new features. Also, we will continue building out the program with free hosted galleries, much like versions of the 'hottlist' many of you have used.
Changes:
1. Choice of payment:
· Flat signup ('Signup')
· Per activated US email ('Qualified Guest')
· 50% recurring revenue share ('Rev Share') NEW!

2. Tracking
Uniques are now tracked on a per-IP basis instead of a per-Session basis. As a result, 'hit.php' will no longer be issued in new tracking links. (All previously issued links are still being tracked)
Statistics are no longer reported real-time. Uniques are batched every 5 minutes and signups every 30 minutes.

3. Stats updating:
Most of you have been affected in one way or another with our 'paid-to-qualified guest' ratio in the past. Here's how it now works:
We pay out for qualified guest conversions up to 1:42. (previously 1:35)
Payouts are determined monthly.
Below are the payout ratios. Paid signups : Qualified guests = Payout per qualified guest.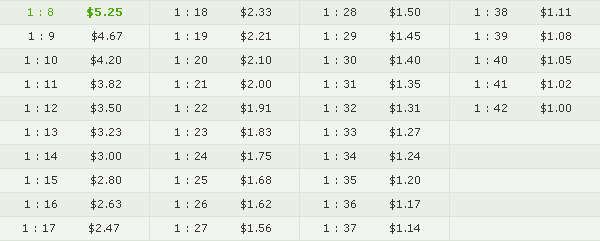 If your conversion rate of signups-to-qualified guests falls below 1:42, your campaign will be set to 'per-signup' payout.
The average conversion rate over time is 1:15, and pays out $2.80 per qualified guest.
These ratios are calculated for the 1st-15th, and the 16th-last day of the month. For each period, the reported amount will be based on the previous period's ratio.

We encourage feedback, feel free to contact us with your comments.